Margaret River Readers and Writers Festival is thrilled to have former Margaret River resident Tanya Heaslip as part of its line-up of literary talent for the 3-day event, which runs from 03-05 May.
In 1994, with a battered copy of Let's Go Europe stuffed in her backpack, Tanya Heaslip left her life as a lawyer in outback Australia and travelled to the post-communist Czech Republic. Having witnessed firsthand the fall of the Berlin Wall (and taken a piece of it back to her office in Alice Springs), she couldn't stop dreaming about the once-hidden Eastern Europe.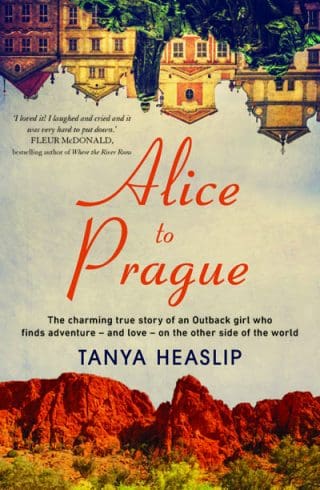 With no teaching experience whatsoever, Tanya headed off to work at a high school in a Czech town she'd never heard of where the winters plunged to sub-zero temperatures. In the land of castles, history, music and culture her value system was turned on its head. Falling in love with Prague and its people, Tanya learnt about lives that were very different to hers.
Returning to Australia some years later, Tanya moved to Margaret River with her husband Steve Jarrett. She wrote about her Czech experiences while there and won a place in the Australian Society of Authors' Mentorship Program.
On Saturday 04 May at 4pm, Tanya will launch her novel Alice to Prague at Riversmith Café in conversation with Margot Edwards as a feature event at this year's Margaret River Readers & Writers Festival. Tanya is very much looking forward to the event in which she will share the bittersweet story of her search for identity, belonging and love, set in a time, a place and with a man that filled her life with contradictions.
"I'm so excited to be coming back to Margaret River where I wrote the first draft of my book," she said. "During our seven years in Margs, I made many wonderful friends who supported me in the writing journey, and it is such a thrill to share this book with them at last!"
Tanya will then join journalist-turned-novelist Chris Hammer, together with writer and musician Dave Warner, on Sunday 05 May at 3.30pm at the Voyager Estate festival hub, for an intriguing talk titled Strange Things in Small Towns.
Margaret River Readers & Writers Festival is running a special offer for locals to attend Tanya Heaslip's Book Launch at Riversmith Café – simply use the code word 'LOCAL' to access $10 tickets and to go into the draw to win an Alice to Prague Prize Pack, including a copy of the book, a bottle of Voyager Estate wine and a $30 Riversmith Voucher. The winner will be announced at the event.