The Margaret River Readers and Writers Festival is soon to kick off with a range of 'wild, weird and wonderful' stories in line with this year's theme. Festival Creative Director Tanya Perdue has shared with us some fabulous events happening at the Voyager Estate festival hub, as well as an exclusive Cape Lodge dinner you won't want to miss out on, and free events for the whole family.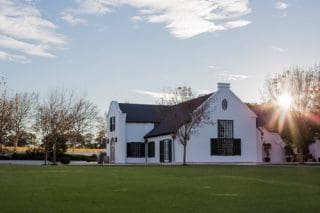 The Writers' Room at Voyager Estate has some fabulous local writers with some amazing stories to tell," she said. "Dunsborough-based artist and author Ian Mutch will take the stage on Friday to talk about his book More and More and More, while Stolen Generation mother and Wadandi Elder Sandra Hill and her daughter Tracie Pushman will speak about their journey home to family, culture and community. On Saturday, festival-goers will have the chance to see William McInnes and Dave Warner talk on cultural cringe in Aussie 2.0, a panel of editors and contributors talk on Woman of a Certain Age, and more. On Sunday, Dr Gregory Peel Smith will take the stage with local writer and photographer Tom de Souza in Back from off-track," she said.
"These are just some of the many events happening in the Writers' Room, and with tickets just $10 it makes the festival really accessible to those who might not have attended before. Plus, pensioners can access all Friday sessions in the Writers' Room for free," she said.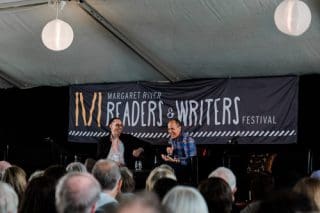 Ms Perdue also pegged the festival finale – a grand dinner at Cape Lodge – as a not be missed event. Memories, Media and Chateaubriand is being held at 6.30pm on Sunday 05 May and will see acclaimed Australian journalist and broadcaster, Geraldine Doogue, in conversation with former journalist and local personality Ian Parmenter. The lively evening of conversation, music, and nosh-stalgia will feature a grand dinner showcasing dishes from the 1970s and 80s, paired with top wines.
Over the weekend, the festival hub at Voyager Estate will come alive with a range of free activities and events, with free lunch time sessions at 1pm each day, book signings, a sculpture walk exhibition called Curious Creations, as well as a children's storytelling tent, roving fairy, free music and entertainment between 11am and 2pm, food vans and more. Feature events and workshops will also take place at other locations around the region including at local libraries, cafes, pubs and restaurants.
The Margaret River Readers & Writers Festival is being held from 03-05 May on the picturesque grounds of Voyager Estate and is for anyone who loves reading, writing, cultural events, current affairs and of course, Margaret River.
Images – 2018 Margaret River Readers & Writers Festival, credit: Michelle Troop.
The State Government is proud to support the Margaret River Readers and Writers Festival as part of its Regional Events Program.
This project is also supported by the Australian Governments regional arts program, the Regional Arts Fund, which gives all Australians better access to opportunities to practice and experience the arts. The Regional Arts Fund is administered in Western Australia by Country Arts WA.
 Arts Margaret River is supported by the State Government of WA, Lotterywest and Country Arts WA.