Arts Margaret River is set to present another compelling Readers & Writers Festival in 2019 with a new team onboard to deliver an outstanding program of literary brain food.
Tanya Perdue, who directed the festival in 2017 and part of 2018, is back on board and will this time take on the role of Creative Director, while local talent Michelle Wright will take on the role of Event Manager. The duo are thrilled to be taking the reins for the 2019 event and are excited to work with the broader Arts Margaret River team to deliver an inspiring and engaging festival.
General Manager Andrew Frith said having both Tanya and Michelle as part of the team would allow greater capacity for the sharing of ideas and overall improvement of the event which is going from strength to strength and growing each year. "Arts Margaret River is now very well-placed to deliver a festival that's even better than the last one," he said. "I'm really looking forward to next year's festival, as well as our year-round events too of course," he said.
Mr Frith said the 2017 and 2018 festivals had an overwhelmingly popular response to inspiring programs which featured the likes of Michael Palin, Kerry O'Brien, Clementine Ford, Robert Drewe, Stephanie Alexander, Geraldine Brooks, Dr Karl and many more.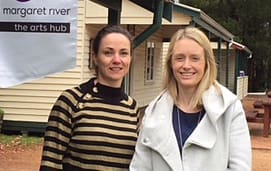 While no hints have yet been given about which writers we can expect to see next year, the dates and venue have now been set. "The 2019 event will be held from 03-05 May and for the second-year running will be held on the grounds of Voyager Estate while the Cultural Centre is completed," Mr Frith said.
"The Arts Margaret River team look forward to bringing you one of our best festivals yet – stay tuned over the next few weeks as we will soon be announcing the 2019 theme and we aim to bring you a number of fabulous out-of-season events with engaging authors in the lead up to the main festival," he said.
For more information on the Margaret Readers & Writers Festival visit www.mrrwfestival.com or to find out about other Arts Margaret River events visit www.staging-artsmargaretriverms.kinsta.cloud
---

Main image: Kaye Campbel, Janine Carter, Michelle Wright, Tanya Perdue, Stephanie Kreutzer, Daniela Tommasi, Phil Bebb and Andrew Frith (photo credit Daniela Tommasi Photography).